Through this article, we will talk about the different types of fragrances and their concentration (Eau de Toilette, Eau de Parfum, etc.) as well as the privileged scents for the summer season.
Alcohol perfumes are classified into five categories according to their concentration but also according to their olfactory notes. It's important to keep in mind that the percentages given are only indicative and that there is no definite rule.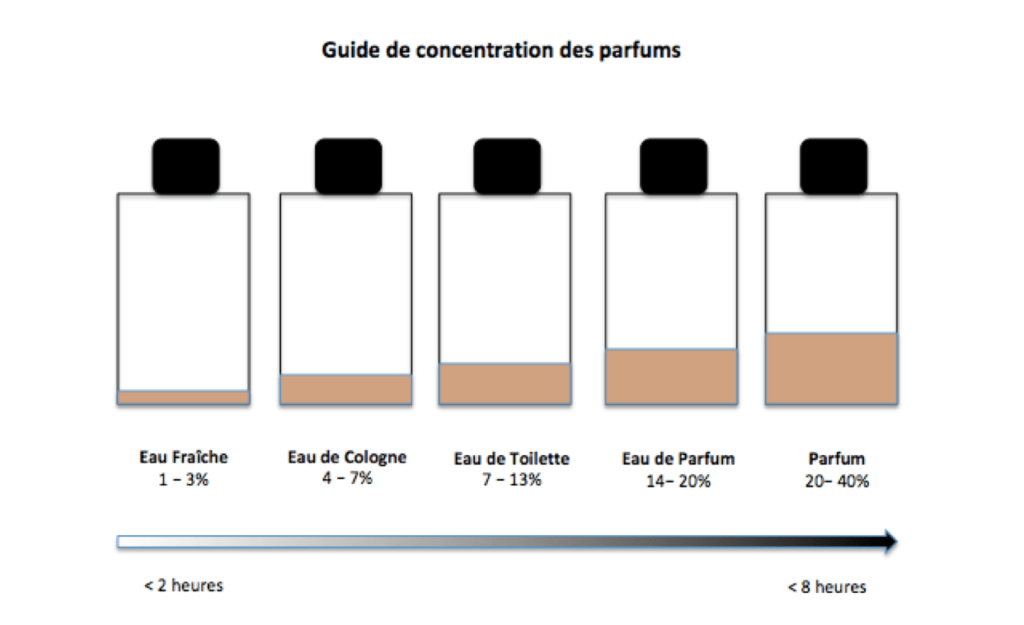 Eaux Fraiches:
Concentrated between 1 and 3% in fragrance, Eaux Fraiches are mainly composed of top notes such as citrus and aromatics. These notes are very volatile which explains why the fragrance doesn't last long on the skin since it evaporates very quickly.
Eaux Fraiches are particularly popular in the summer because of the refreshing sensation they provide. In addition, they are amongst the cheapest perfumes.
Eaux de Cologne:
Eaux de Cologne have a perfume concentration between 2 and 7%. Like Eaux Fraîches, they mainly contain citrus and aromatics such as orange and lavender. Some heart notes like geranium are also often present. In view of their composition, they don't last more than two hours on the skin. They are usually sold in large sizes and at a reasonable price. We can often find them in the form of splash and not spray which facilitates their use in large quantities.
Eaux de Cologne were initially composed of natural aromatic ingredients and were drunk to prevent or cure diseases in the 17th century. Today, they mainly refer to men's perfumes.
Eaux de toilettes:
Eau de Toilette is a popular category of perfumes. Their concentration in perfume varies from 7 to 13%. They only last between two and three hours on the skin because they mainly combine top notes with heart notes and a few back notes.
The Eau de Parfum:
Concentrated between 14 and 20%, Eaux de Parfum are also very popular with consumers. Because of their higher concentration and especially their composition, these fragrances last up to seven or eight hours on the skin. Indeed, there are many more base notes like woods, amber and vanilla, which gives them more intensity and a better lasting effect.
The perfumes:
Perfumes, also called extracts, contain the highest percentage of concentrate, from 20% and sometimes up to 40%. In addition to their high concentration, the raw materials used are very often noble. The bottles are therefore more expensive and luxurious. The extracts are composed of many base notes that make them stay fairly long on the skin. These are usually warm and intense fragrances that can be easily worn in the winter. In some parts of the world, such as the Middle East, these perfume extracts are popular throughout the year. Despite the strong heat, the Middle East is fond of powerful and persistent scents.
Often, after the launch of a first perfume, an Eau de Toilette for example, brands release a more intense version (Eau de Parfum) and a lighter version (Eau Fraiche).
In 2015, Dior released Sauvage Eau de Toilette, whose ambassador is Johnny Depp. It was so successful that three years later, Sauvage Eau de Parfum was launched with, this time, notes of vanilla, warmer and spicier.
Summer is an opportunity for fragrance brands to release more summery fragrances, fresh and fruity. Solar, exotic and marine notes are very popular.
We also see a lot of summer flankers of existing perfumes launching in June. L'Eau d'Issey Summer 2018 results from the combination of exotic and fruity notes with sillage of the famous original perfume. CK One has also recently released a Summer 2019 version in which the marine facet sublimes a Blue Lagoon accord.
At Créassence, we love working around the scents of summer.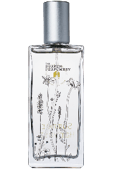 To celebrate this beautiful season, we have developed Summer Harvest, a mixed perfume created for The Burren Perfumery. With its floral and marine tones, this fragrance is very popular and is reminiscent of the summer atmosphere of the Irish coast. A few years ago, L'Esprit du Parfum launched Lumière d'Été, a fresh and rosy fragrance created by Sylvie Jourdet.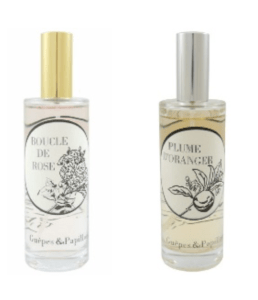 We have also developed for the brand Guêpes & Papillons two hair mists mixing freshness and lightness. The first, Boucle de Rose, has the scent of a morning rose and is ideal to start the day. The second, Plume d'Oranger, sublimes an elegant orange blossom with soothing bergamot. This mist is very similar to a Cologne and is ideal to wear at night.
The summer season is a great source of inspiration for perfumers who play both on the concentration of perfume and the evocative scents of summer.