What does "olfactory signature" mean and how can this help your brand ?
Brands have long used visual elements to reinforce their identity. Selected logos, colours and slogans help consumers identify and recognise a brand. Beyond the identification, these elements also contribute to strengthen a bond and develop emotion, which plays a crucial role in the process of purchase and customer loyalty.
But today, visual elements are not enough anymore. In fact, in a world where more and more companies are competing to capture the consumers' attention, brands must invest time and effort to stand out.
We know that our senses play a key role in shaping our thoughts as well as in memorising experiences. So, of course, brands target the senses to build a stronger and more emotional relationship with consumers.
The sense of smell, meanwhile, not only creates bonds with the brand but also cause the emotion and enhance the feeling of well-being. This is how olfactory signatures, or olfactory marketing, have developed in recent years. Indeed, the olfactory memory is much more tenacious than the visual memory. There is therefore a real potential for brands to use it to build customer loyalty. If a smell positively impacts a visitor, he or she will want to take away scented memories or return to the place where he or she will now associate a positive relationship.
Developing your own olfactory signature not only helps to reinforce the exceptional identity of a place, but also to positively influence the consumer experience.
How to develop your own olfactory signature ?
As with a first meeting, the first moments are important and when your customers, service providers or partners enter your premises, your shop, your offices, your restaurant or hotel, our mission is to make sure that the scent provides a a feeling of well-being that invites relaxation and suspends the flow of time.
At Créassence, we work closely with our customers to imagine unique and tailor-made perfumes, made in the pure French tradition in our laboratory in Paris. The fragrances we develop reflect the values of their brand, adapt to the place in which they are distributed and address a target audience, defined together. For each project we study their expectations and take the strong elements to translate them olfactory. It is necessary to take into account all these elements in order to succeed its olfactory signature.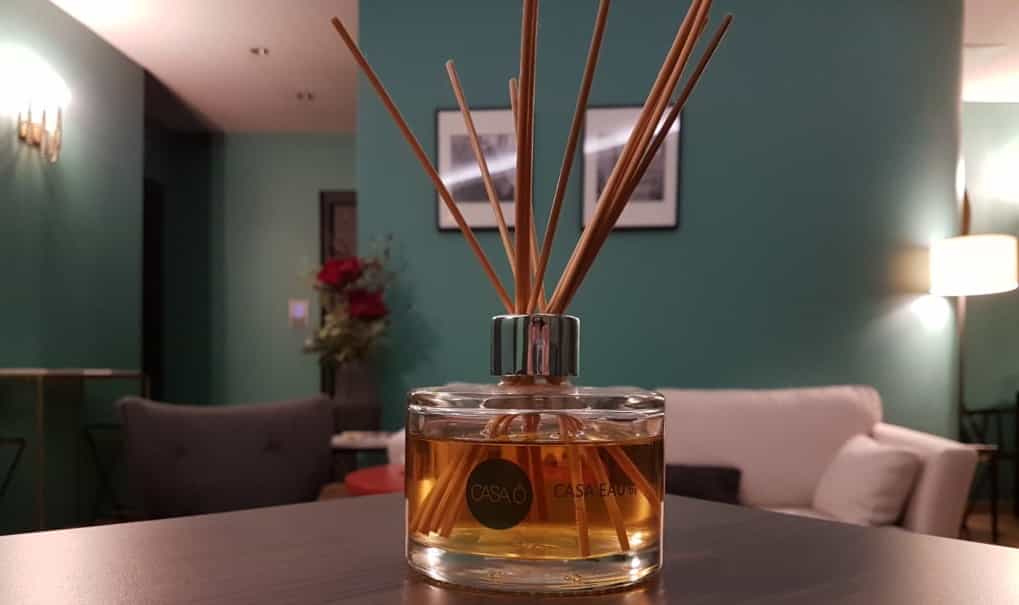 The goals our customers want to achieve with a unique olfactory signature are varied, but here are some examples below:
Reinforce the passengers' perception of safety thanks to a smell at the same time citrus "clean", soft and comfortable (project created for a bus company).
Seduce customers as soon as they open their package thanks to a fresh and vibrant scent that perfumes the tissue paper used to wrap the Innocence photo albums (and maybe soon an Eau de Toilette version).
Display the values of a large private banking company by offering its privileged clients a woody, coppery, elegant atmosphere perfume offered during a great evening.
Extend the experience of the stay in the French capital of the customers of CasaÔ thanks to a diffuser containing the amber perfume, offered to the customers.
We also work with a partner for the diffusion of perfume in space. Elegant, compact and autonomous diffusers, adapted to the size of the space are proposed to our customers. No perfume handling is required and they work for several months, spreading the scent of your brand.